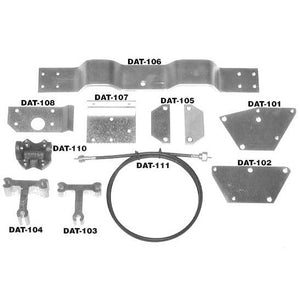 V-8 Mounting Kit for 1970–1978 Z Cars, Datsun Z V8 conversion
DAT-200
Why You Need It. Stealth Conversions sells a basic V-8 mounting kit (Part Number DAT-200), shown above, for $365, including shipping. 
You can also buy the parts individually or use the drawings of the parts (except the speedometer cable and driveshaft flange) to make them yourselves (See the Datsun Z Car V-8 Conversion Manual. 
We also sell a Radiator Mounting Bracket Kit (Part Number DAT-125).
When Ordering, Choose Transmission and Flanges. When ordering the kit, you need to specify transmission and the correct set of driveshaft flanges.
Available transmission crossmembers correspond to the T56 or T5, the 700-R4, or the Turbo-350. Choose one. 
Note that the T56 crossmember is 1" lower in center and requires hammering sides of the transmission tunnel.
The 280 Z car requires flattening of floor to bolt the crossmember to the floor.
Driveshaft Flanges. You also must choose the correct Driveshaft Flanges.  
The pilot diameter on the DAT-110 flange is 2.25 inches in diameter. All 1970-1978 Z Cars (except 1975 models) came with the 2.25" pilot diameter shown above as DAT-110.
1975 Z cars, and 1979-1983 (ZX) cars came with either a 2.25" or 2.00" pilot diameter. If the differential has the 2.00" pilot, choose the DAT-110-2.0. Note that it uses 10 mm bolts, compared to 8 mm bolts, to attach the flange to the differential. 

300ZX cars often use the flange on the right. This is available as part #DAT-110-300ZX.
These Flanges are available separately here.
Important Installation Note.  Use socket head bolts (8 mm x 30 mm long, or 10 mm x 30 mm long) because it is difficult to get a box wrench around standard hex-head bolts. Use self-locking nuts to fasten the flange to the differential. Standard nuts have been known to come loose, with disastrous results. We recommend that you use Locktite® in addition to the self-locking nuts. If you get a driveline vibration in the car, always check the bolts on the differential flange to see that they are tight. If you still have a driveline vibration, check the front differential mount (or isolator). Replacing the front differential mount has solved vibration problems in a number of cars.
---
Related Products