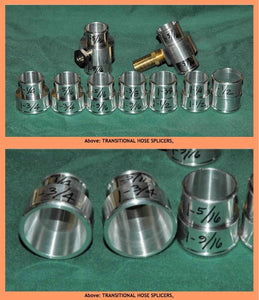 Transitional Hose Splicers
S1C7D5
Transitional Hose Splicers Ordering:   Select the quantity/price desired and choose a size from the menu when ordering.  
Typical Use. When connecting different size hoses, these aluminum transitional hose splicers allow secure connections without the need for hose reducer bushings that can compress, and loosen with time.
The splicers are made as short as possible to fit in tight locations. The overall length is about 1-3/4"
Transitional hose splicers are machined on the inside to provide better flow than using a hose reducer bushing.
Transitional Sizes Available:  Choose your desired transition in the pull-down menu. Contact us if you need an unlisted transition. 
---
Related Products