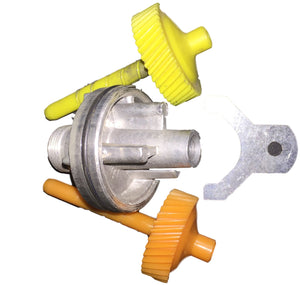 Speedometer Gear Set for 700-R4 or 4L60-E
4L60-gears
Why You Might Want One. This VSS gear set supports vehicles that require use of a standard speedometer cable. 
More About the Set. The unit will work for vehicles that require a mechanical speedometer including the 1990-1992 TPI (or 1990-1992 Camaro V6) and 1992-1993 LT1 engine with a 700-R4 transmission or ZF six-speed. It comes in two styles: one for 34-39 tooth driven gears, and one for 40-45 tooth driven gears (the same speedometer gears as the Corvettes and Camaros).
Components include the drive gear (15, 17, 18 tooth), driven gear (34–45 tooth), sleeve, o-ring, retainer. 
Specify tire size and rear axle ratio when ordering.
---
Related Products