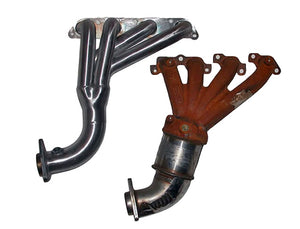 Shorty-style Header for Chevrolet Colorado 4-cylinder
COL-404
4-Cylinder Colorado Header. This is a shorty style header that bolts on to 2004 through 2006 model 4-cylinder Colorados with no modifications, except the requirement to extend the wiring to the oxygen sensor. Not emissions legal. Fits 2wd and 4wd.  Uses stock gasket, and hardware.
For comparison purposes, the original exhaust manifold with catalytic converter is shown on the lower right.
The original metal exhaust manifold gasket can be used.
The seal (GM part # 15105884) between the headpipe and exhaust manifold can also be reused, if care is taken to remove it from the stock exhaust manifold.
On 2007 and newer models, an extra bung for the oxygen sensor is required to be installed behind the second catalytic converter. 
---
Related Products