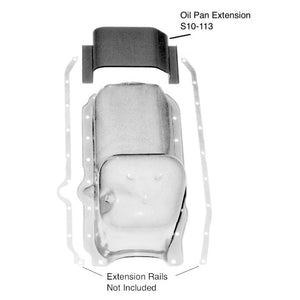 S10 V8 Truck 4x4 Oil Pan Extension for V8 engine swap
S10-113
You take the stock 4.3 V6 4x4 oil pan (shown in light gray) and extend it with our oil pan extension part (shown in darker gray). If you or a friend can cut, weld, and grind, our 4x4 oil pan extension (Stealth Conversions part # S10-113, cost $25) will make it possible for you to extend the length of a 4x4 4.3 V6 pan to work with your swap.
The extension is 4.4 inches long and is precision formed to exactly match the cross-section of the 4.3 V6 pan. It is made of 16 gauge cold rolled steel, which closely matches the thickness of the steel in the oil pan.
You will also need to chemically remove the factory zinc coating of the reinforcement rails (not included in the kit). Welding on zinc-plated parts is extremely dangerous due to the toxic fumes that form. Sandblasting or grinding does not do a good job of removing the zinc.
To be clear, the extension piece (part # S10-113) does not include the oil pan, and only works on 1986 and newer engines.
---
Related Products