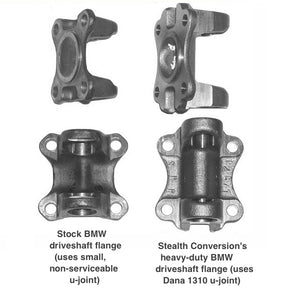 Heavy-duty driveshaft flange for BMW V8 engine swaps
BMW-110
Why You Might Need One. 
When doing a V8 swap into a BMW, 
the BMW U-joint is non-serviceable and requires special machining to replace. 
Stealth Conversion's heavy-duty BMW driveshaft conversion flange has the same bolt pattern and pilot dimensions as the stock BMW driveshaft flange, but it uses the road-tested Dana 1310 U-joint, which is much stronger than the BMW U-joint. It will last much longer, and it is serviceable.

Notes: This flange will not fit the E36 M3 cars with their 6-bolt constant velocity driveshafts. It fits the medium case differential used on the BMW E30 325, and the E36 325 and 328. 
Flange requires new bolts: 10 mm diameter, 25 mm long, 1.5P
---
Related Products