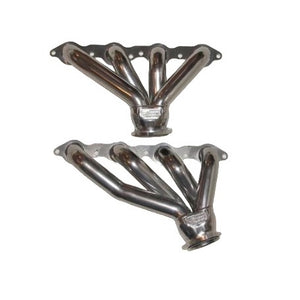 Headers for Datsun Z LS1 V8
DAT-405
Why You Might Want One. While we prefer cast-iron exhaust manifolds for most swaps, for those who prefer headers we recommend Sanderson brand LS1 shorty headers for 1970-1978 Datsun Z cars using the LS1 engine. 
These headers will work with the John's Car LS1 mounts.
Ordering Details. The primary tubes are 1-3/4" and the collectors are 3". The only option to choose is mild-steel or ceramic coating. 
The headers shown have the ceramic coating, which costs about $100 more (per pair) than the plain steel headers. We feel the extra $100 is money well spent because of the better appearance and the greater durability. The ceramic headers will not change in appearance or rust or turn blue.
Installation TIps. The fit on the driver's side is very tight. The header on the driver's side requires trimming one of the bosses on the engine block. The header on the driver's side must be installed from underneath the car.
The spark plug wires need to be changed to 90-degree boots. 90-degree boots are used on LS2 engines.
---
Related Products