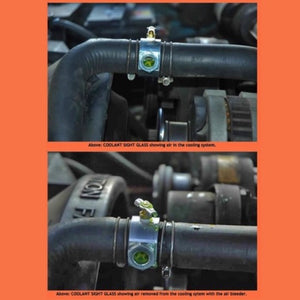 Coolant Sight Glass
Why You Might Need One.  Air in the cooling system can cause big problems, from overheating due to foaming to corrosion that rots and clogs radiators.
According to a cooling system engineer, 2% air in the system can cause 8% less heat transfer, 4% air in the cooling system can cause a 38% loss in heat transfer.
With engine swaps where the radiator is lower than the engine, such as the LS1 into Mazda RX-7's, many of the overheating problems are caused by air in the system. The coolant sight glass will allow you to purge the air out of the system with the bleed screw. 
More About Sight Glasses. The coolant sight glasses are made of aluminum. The sight-glass itself is made from fused glass that is rated to 500 degrees F and 1500 psi. The sight glass has a petcock on top for bleeding air out of the system, and, if needed, an extra 1/8 NPT fitting for a steam vent tube used on LT1 and LSx engines,
More About Ordering. This part comes in transitional versions and non-transitional versions. Order the non-transitional versions here (for splicing a single hose). For transitional versions (splicing different size hoses together), click here.
Three Versions
1) Sight Glass, plain. This version has no air bleeder and no steam vent fitting. 
2) Sight Glass with Air Bleeder. 
3) Sight Glass with Air Bleeder and Steam Vent Fitting in 1/4", 5/16", or 3/8" size.  
You must select which Sight Glass Version and what hose size you need from the pull-downs when you add this part to your shopping cart. 
---
Related Products