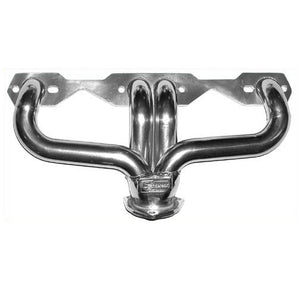 Block Hugger Headers for Datsun Z V8 with 1-5.8" Primary Tubes
DAT-402
Why You Might Need One. We recommend the Sanderson Brand because they fit in the V8 Z and the thick flanges prevent leaks, which are common on lower priced headers. 
Another advantage of the header flange is the gasketless design.

More About The Headers. These headers have 1-5/8" primary pipes. They will work with stock heads, but may not fit all aftermarket heads (e.g. Dart). 
Options. All our headers are available with either mild steel or ceramic coating. Ceramic coating adds $100.
We feel the extra $100 per pair is money well spent because of the better appearance and the greater durability (ceramic headers will not change in appearance or rust or turn blue).
When Ordering. Please specify if heads have a D-port (usually found on LT1, ZZ3, ZZ4).
---
Related Products