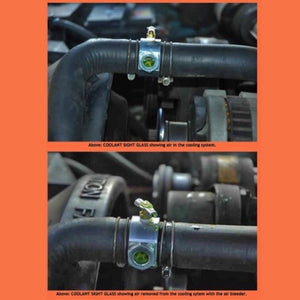 Air-Bleed Valve for Datsun
DAT-129 1-1/4
Why You Might Need One.  Air in the cooling system can cause big problems, from overheating due to foaming to corrosion that rots and clogs radiators.
According to a cooling system engineer, 2% air in the system can cause 8% less heat transfer, 4% air in the cooling system can cause a 38% loss in heat transfer.
With engine swaps where the radiator is lower than the engine, many of the overheating problems are caused by air in the system. The coolant sight glass will allow you to purge the air out of the system with the bleed screw. 
---
Related Products