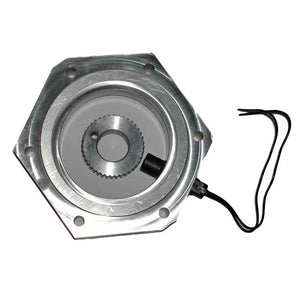 6-Bolt Tailhousing Adapter for 4L60-E V8 engine swaps
4L60-624
Here is a video.
http://www.youtube.com/watch?v=FKnt9_HBaFE
Why You Might Need One. This adaptor modifies the tailhousing for connection of a VSS and speedometer cable. It also allows connecting a newer 4L60-E transmission to an older transfer case.

Used Caprice tailhousings can often be purchased on Ebay. 
Details on the Installation. For two-wheel drive applications, this adapter requires the following parts in addition to a Caprice tailhousing: a 4L60-003 reluctor ring, 4L60-004 gear clamp assembly, GM VSS, electrical pigtail, and GM speedometer gears and sleeve. Our image of the adaptor shows it after the 40-tooth reluctor ring, sensor, and electrical pigtail have been installed.
As noted, the adapter can also be used to connect a newer 4L60-E transmission and its 6-bolt tailhousing to an older transfer case that normally connected to a 4L60-E or 700-R4 transmission with a 4-bolt tailhousing. 
Three Views of our Adaptor on the Left, stock 6-bolt Tailhousing on the right.
Note that the overall length of our adapted tailhousing remains the same as the stock tailhousing.
---
Related Products