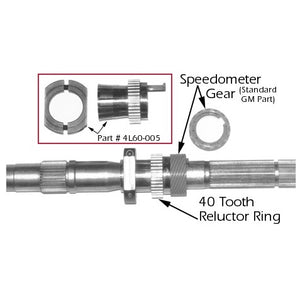 Reluctor Ring and Speedometer Gear Assembly 4L60-005
4L60-005
Why You Might Want One. The 4L60-E transmission is used in 1993 and newer trucks and in 1994 and newer rear-wheel drive cars. This transmission has no provisions for a speedometer cable, but Stealth Conversions has developed parts to drive a speedometer cable.
The product image shows the reluctor ring sleeve assembly (Stealth Conversions Part #4L60-005), both on and off the output shaft. It can be installed without removing the output shaft from the transmission, and it does not require drilling a hole into the transmission case.
This unit holds the standard GM speedometer drive gear onto the output shaft, and it positions the reluctor ring about 7/8" forward of the original location, which requires a tailhousing modified to accept the relocated sensor. 
This assembly simply slides onto the output shaft and the collar clamp securely holds the unit in place. Alignment holes (not visible in the photo) ease the positioning, and also balance the assembly.
The collar clamp has the outside portion machined flat to allow proper oil spray to the rear bushing in the tailhousing.
---
Related Products