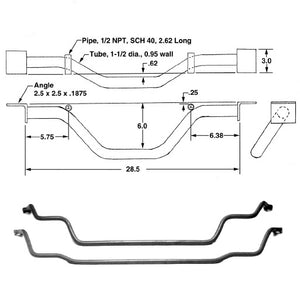 Volvo 200 Series V8 Motor Mount
Vol200-101
Why You Might Want One. A 200 Series Volvo, particularly the diesel, is a nice choice for an engine swap: it comes with suspension and brake components compatible with a Chevrolet V8 as they were designed for the heavier diesel engine. With our motor mounts and mostly stock parts from Volvo and Chevrolet, the engine swap ends up looking almost stock.
The motor mount is a tubular crossmember that lays across the frame rails.
After the engine is installed, two 3/8" holes are drilled through the crossmember and frame rails, and 3/8" bolts are installed to secure the crossmember to the frame rails. This mount is used with the stock Chevrolet V-8 mounts (isolators) and the height of the engine can be adjusted by installing shims or washers between the motor mount and the frame rails.

If you want to make your own motor mount, the dimensions are shown in the product illustration, with more detail in the Volvo 200 Series V-8 Conversion Manual.

The 4-cylinder swaybar interferes with the V-8 motor mount, and must be replaced with the swaybar from a diesel or V-6 model. An IPD swaybar for the V-6 or diesel model offers plenty of clearance from the motor mount, and is highly recommended with the V-8 swap.
---
Related Products