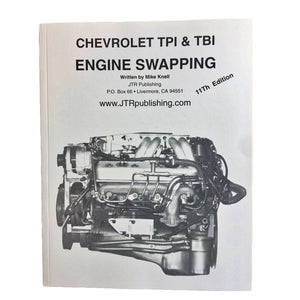 Chevrolet TPI & TBI Engine Swapping
Overview. Illustrated guide of more than 200 pages written by Mike Knell shows how to install the Chevrolet Tuned Port Injected and Throttle Body Injected Chevrolet V-8s into older, non-fuel injected vehicles. The information will also help with LT1 engine swaps.
What it Covers. Detailed dives into the electrical system (and how to use the factory wiring harness), fuel systems, air cleaner and ducting, overdrive transmissions, how to buy engines, smog laws, and much more!  
Included for free on this site: You can download chapter 13, which covers everything you need to know about Speed Sensors. The book also has a chapter on the Astro Van V8 Conversion.
---
Related Products