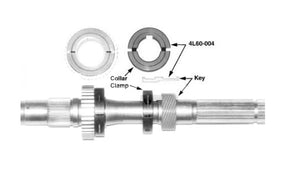 Collar Clamp and keyway #4L60-004 for 4L60-E Swaps using driven gear for cable speedometer
4L60-004
Why You Might Want One. The 4L60-E transmission is used in 1993 and newer trucks and in 1994 and newer rear-wheel drive cars. This transmission has no provisions for a speedometer cable, but Stealth Conversions has developed parts to drive a speedometer cable. This collar clamp 4L60-004 is normally used in conjunction with the 4L60-003 reluctor ring in 2WD applications.
RELUCTOR RING AND COLLAR CLAMP WITH KEYWAY
More information on alternative ways to drive a speedometer cable on the 4L60-E transmission is available in the book, Chevrolet TPI & and TBI Engine Swapping.
---
Related Products