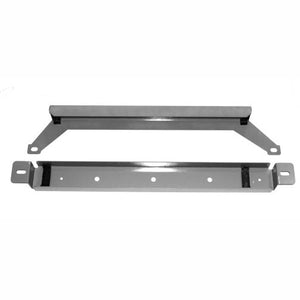 V8 Datsun Radiator Mounting Bracket Kit
DAT-125
About the Kit. To save weight, the radiator mounting brackets are made from aluminum rather than steel.

For durability, it is important to completely rubber mount the radiator using Chevrolet radiator pads. The aluminum radiators need to be rubber mounted to protect from vibration and from electrolytic corrosion. One of the reasons the all-aluminum racing radiators don't last long on street cars is because they are often mounted metal-to-metal.
Thus the Z Car Stealth Conversions brackets shown on this page include rubber mounting pads (GM part #12338053 from a 1986-1993 S10 Truck) that isolate the radiator from vibration and electrolytic corrosion. 
More About Installing. The brackets have alignment holes that hold the rubber pads in place for installation purposes, but silicone sealant must be used to hold the rubber mounting pads to the radiator brackets. For more installation information, see page 12-10 of our Datsun Z Car V8 Conversion Manual (download The Cooling System chapter as a PDF). 
---
Related Products