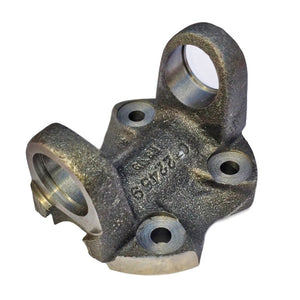 DAT-110 Adaptor Flange for Datsun-Z V8
DAT-110
Why You Might Need One. The proper driveshaft for the Z V8 swap uses Chevrolet U-joints at both ends. If you use the Datsun U-joints, they can fail under hard use. Stealth Conversions has three different driveshaft flanges that bolt to the Datsun differential and use a Chevrolet U-joint (Dana-Spacer #1310).
Note that you can choose the flange you need (see below) as part of the convenient DAT-200 kit for a 1970-1978 Z Car V8 swap.
Ordering the Flange you Need.
The pilot diameter on the DAT-110 flange is 2.25 inches in diameter. All 1970-1978 Z Cars (except 1975 models) came with the 2.25" pilot diameter shown above as DAT-110.
1975 Z cars, and 1979-1983 (ZX) cars came with either a 2.25" or 2.00" pilot diameter. If the differential has the 2.00" pilot, choose the DAT-110-2.0. Note that it uses 10 mm bolts, compared to 8 mm bolts, to attach the flange to the differential.

300ZX cars often use the flange on the right. This is available as part #DAT-110-300ZX.
Background for Installation.  The Dana 1310 u-joint is used on most 1974 and older Nova, Vega, and Camaro driveshafts. The 1310 u-joints use c-clips on the outside of the u-joint. Most newer Chevrolet driveshafts use a slightly larger u-joint with bearings held in place with plastic from the factory, but for servicing purposes, they are held in place with c-clips on the inside of the u-joint. If you have a newer style driveshaft that has been shortened, conversion u-joints are available from the aftermarket, and from Chevrolet. The 1988-1992 Camaro's with the aluminum driveshaft use a conversion u-joint on the rear of the driveshaft, GM part # 10147926.

Important Installation Note.  Use socket head bolts (8 mm x 30 mm long, or 10 mm x 30 mm long) because it is difficult to get a box wrench around standard hex-head bolts. Use self-locking nuts to fasten the flange to the differential. Standard nuts have been known to come loose, with disastrous results. We recommend that you use Locktite® in addition to the self-locking nuts. If you get a driveline vibration in the car, always check the bolts on the differential flange to see that they are tight. If you still have a driveline vibration, check the front differential mount (or isolator). Replacing the front differential mount has solved vibration problems in a number of cars.
---
Related Products