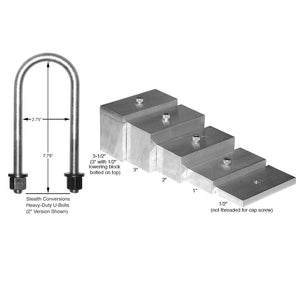 Lowering Block Alignment Kit
S10-501
Why You Might Need One. Lowering blocks kits work with alignment shims that adjust driveline angles on swaps. Our lowering block kits include the required heavy-duty U-Bolts, Hi-Nuts, and extra thick washers.

Why JTR Stealth? Stealth Conversions' rear suspension lowering kits use lowering blocks made of solid (billet) aluminum.
The lowering blocks are unique in that the lower hole is 9/16" and the upper hole is threaded to accept a 3/8" socket head cap screw, which has a 9/16" diameter head. This allows bolting the axle alignment shims on top of the lowering block, as well as bolting our 1/2" thick lowering block to the 1", 2", and 3" lowering blocks in order to make 1-1/2", 2-1/2", and 3-1/2" lowering blocks.
The solid aluminum lowering blocks cost more than most other lowering blocks because of the high cost of solid aluminum, and the additional machining required to tap the hole, but they will not fail. They are more versatile than extruded or cast lowering blocks because 1) they can be paired with axle alignment shims and 2) the amount of lowering can be adjusted in 1/2" increments by bolting the 1/2" block to a 1", 2" or 3" lowering block.
Several companies make 2" pinion alignment shims, but our lowering block kits are designed to work with our solid aluminum 2-1/2" alignment shims, which will not fail in service. Click to read more about our shims and order them.
Installation Tips. The U-bolts in our lowering kits use 9/16" threads and the U-bolts have the correct dimensions for use with the S-10 axle, which is 2.75" diameter. Most of the aftermarket lowering kits use U-bolts designed for a 3" axle. Also, most aftermarket U-bolts use 1/2" threads, which are weaker than the stock S-10 U-bolts and often strip with repeated use. See below.
Stealth Conversions Heavy-Duty U-Bolts.


Torque our U-bolts to 85 lb-ft.
Since the 1/2-inch block works to increment the other sizes or bolts directly to the leaf spring using the original S10 U-Bolts, it does not include Stealth Conversions U-Bolts.
---
Related Products