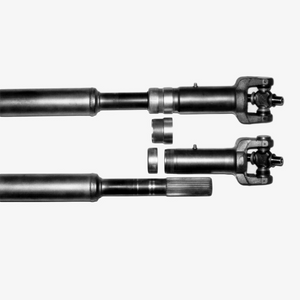 S10 Motor Mounts Front Grease Seal Extension (Alternative to Driveshaft Lengthening)
S10-302
Why You Might Need This. 
On air-conditioned 4x4 S-10 trucks, the front driveshaft falls short by about one inch when installing the V-8.
Stealth Conversions grease seal extension moves the grease seal one inch so the V-8 can be installed without actually lengthening the front driveshaft.
More About the Product. In the photograph, the upper driveshaft has the grease seal extension installed and has been extended one inch.
The lower driveshaft shows that full spline engagement is maintained even when the driveshaft is extended one inch.
---
Related Products