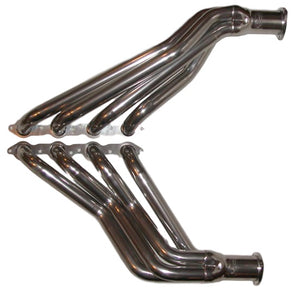 Mazda RX7 LS1 VI Long Tube Headers
RX7-404
Why You Might Want Them. These are LS1 long-tube headers with O2 sensor bungs for use with Samberg and Hinson LS1 V8 kits. For Mazdas equipped with T56 transmissions (will not fit cars using 4L60-E transmissions). Our headers come with V-Band clamps and efficient collectors. Will work with stock heads, but may not fit all aftermarket heads (e.g., Dart).
As always, our headers are available in mild-steel or ceramic coated. Ceramic coated headers last longer, and the ceramic coating acts as an insulator, which reduces some of the heat radiated from the header. 
Installation Notes. These headers are installed from the underneath the car. The front tires need to be about 20" off of the ground, and the spark plugs should be removed during installation. 
Some cars may require hammering the transmission tunnel/floor for header clearance.
The spark plug wires should be changed to 45-degree connectors, like those used in Mustang 5.0 engines, for better clearance. 
These headers will also fit the RX7 LS1 FC model (1986-1991) using the LS1/6-speed, but the RX7 FC heat shields will need to be trimmed. 
---
Related Products