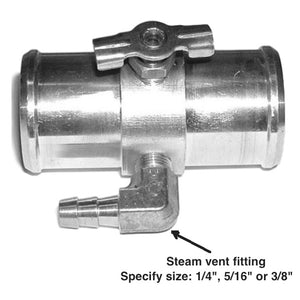 LS1 Steam Vent Tee for V8 engine swap
Why Do I Need One? The hose fitting shown above is for installing the LS1, LS2, or LT1 steam vent tube into the upper radiator hose.
The upper fitting (petcock valve) allows bleeding air out of the cooling system. It uses a standard 1/8 npt fitting.
More About This Vent Tee. The hose fitting for LS1 engines is normally 5/16" on early LS1 engines, but later engines (LS2) use a 1/4" fitting. LT1 engines use a 3/8" fitting. The fittings are standard 1/8 npt fittings, and can be replaced for other applications.
You might also consider steam vent tees with sight glasses to monitor coolant foaming and air in the system. See SightGlass.
More About Ordering. The hose tee/bleeder for the LSx/LTx shown in the photograph is for 1-5/16" hoses. That's the best fit for stock hoses. We also make hose tee/bleeders in all the sizes shown in the order drop-down from 5/8" to 1-3/4". You also must specify the steam vent fitting size of 1/4" or 5/16" or 3/8".
If you don't see the size you need, note what size you need in the message box on our order form.
---
Related Products