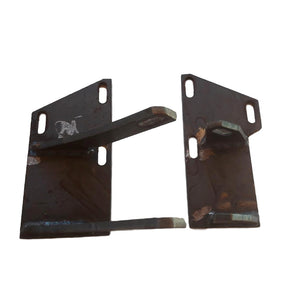 Astro Van V8 Mounts for All-Wheel-Drive
Why You Might Want One. Although it is still relatively straightforward, the All-Wheel-Drive V8 Swap requires a different set of motor mounts than for the 2WD Astro Van. In addition, the oil pan must be modified (see below).
More Information About the Swap. The All-Wheel-Drive Astro Van uses the same front differential as a 4x4 S-10 Truck. To clear the front differential, the oil pan must be modified. The 4x4 V8 pan that we sell for the S-10 will not fit the AWD Astro Van.
The simplest way to modify the pan is to use two 4.3 V6 4x4 oil pans and cut and splice them together to make it as long as a V8 pan. See the do-it-yourself components and instructions here.
---
Related Products